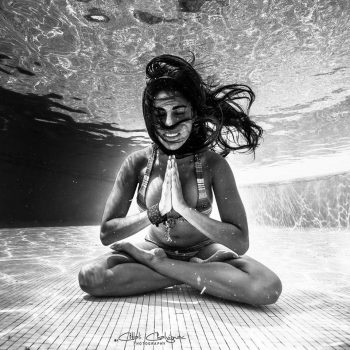 The water, the ocean, and nature have always been a fundamental part of Citlali Chalvignac's art and life, which began with her birth underwater  in Manzanillo, Colima, Mexico in 1989. As a free diver and surfer, Citlali uses photography to express her love for the Ocean, for the water, for us.
Growing up in the small town of Ajijic, her mother, Cathy Chalvignac, a painter, and father, Roberto Cerda, a guitarist, nurtured and taught her to have a wider view of what is truly art. Leaving Ajijic at a young age to travel the world, Citlali's love for Mexico ultimately brought her back to her origins. Living abroad and observing many cultures in countries such as India, Papua New Guinea, Indonesia, Argentina, France, and Canada, her vision transformed and she began to observe life in a deeper sense, having a connection with humanity and nature, creating a new vision of what life is . Capturing true photography was the essence of her journeys.
Citlali studied audiovisual media at the University CAAV in Guadalajara, Jalisco and filmmaking in Buenos Aires, Argentina. This built the foundation for her new independent path, merging motion and still photography.
For seven years, Citlali devoted her days to the ocean, spending her winters working with the humpback whales as a guide in Banderas Bay, Jalisco and summers with the whale sharks at Isla Mujeres, Quintana Roo. She became a AIDA Free Diver in 2014 and a PADI Dive Master in 2015, sharpening her career of underwater surf and wildlife photography. Her passion for the ocean and surfing grew ever stronger. 
In 2016 she received the Ocean Geographic Merit of Excellence Award for her photography of the giant Mantaray, in recognition of the high standards achieved and to encourage further excellence in conservation art. In addition to her award-winning work with pelagic life, Citlali also works with humans to represent their unique and significant moments through private sessions of underwater and surf portraiture.
Today, Citlali continues to capture special moments through the lens with her artistic eye, developing a connection with water in every expression, every being, every interaction with nature.